We're fuelling change by changing our fuelling
Published Friday 5 February, 2021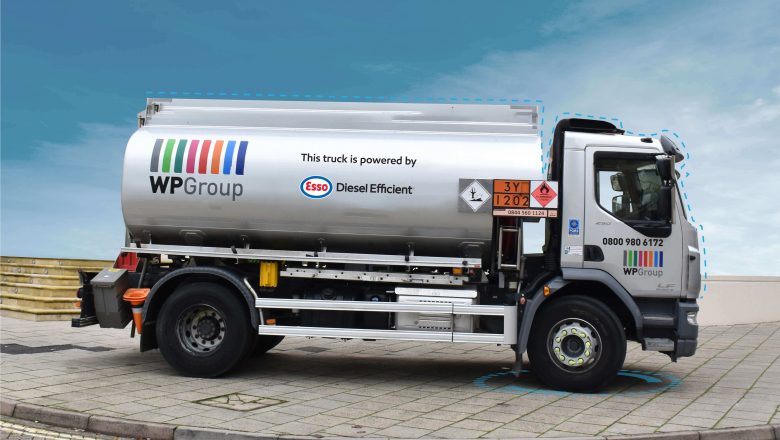 The Esso Diesel Efficient™ fuel delivers both a cleaner engine and lowers emissions, contributing to an impressive overall performance for your engine and your business.
We've seen the benefits this additised fuel can deliver and have switched our own fleet to run on Esso Diesel Efficient™ fuel. It is not only more efficient than standard diesel fuel but it also can help save money, improve your carbon footprint and reduce your overall fuel consumption*.
It's a small step but a logical and significant one towards fuelling change, evolving the way we work today to create a more sustainable future for tomorrow. 
The heavy-duty diesel fuel with strong all-round performance
Esso Diesel Efficient™ has shown to reduce particulate matter and CO2 emissions, the fuel formulation keeps your fuel injector system cleaner, which helps to protect the fuel system and reduces maintenance downtime. A special additive in the fuel inhibits water from reaching the metal surfaces thereby protecting your engine's fuel system from corrosion, while an anti-foaming agent provides quicker refuelling. 
Lower emissions, cleaner air
In tests compared to standard Esso™ diesel, Esso Diesel Efficient™ fuel helped reduce NOx emissions by an average of 10%, particulate matter emissions by an average of 22% and carbon dioxide emissions by an average of 2.8%.*
Cleaner fuel injectors need less maintenance
Esso Diesel Efficient™ fuel is formulated to protect your fuel injectors from internal and external deposits. This helps maintain optimal injection spray characteristics and promotes efficient mixing of fuel and air. Reduced deposits on fuel injectors help to provide improved combustion, engine power and performance and also lower fuel consumption, NOx, CO2 and particulate matter emissions. 
Lowering fuel consumption
Independent tests confirmed a reduction in fuel use of 2.8%, that's 28 litres of fuel saved for every 1000 litres purchased. Therefore, saving your business money off your fuel bill. 
Discover Esso Diesel Efficient Fuel, part of our range of sustainable fuelling solutions
Learn more about Esso Diesel Efficient™ by contacting your Authorised Distributor of Esso Diesel Efficient™. Or email us at enquiries@thewp-group.co.uk
© 2020 Exxon Mobil Corporation. All trademarks used herein are trademarks or registered trademarks of Exxon Mobil Corporation or one of its subsidiaries
*Independent tests performed at Millbrook Proving Ground Ltd., UK:

Compared the performance in heavy-duty vehicles of Esso™ unadditised diesel with Esso Diesel Efficient™ fuel

Used third-party customer trucks (Euro III and Euro V specifications)

Covered approximately 110,000 miles/177,000 km

Five months of normal daily on-road operations (motorway, rural, and urban environments)

Took trucks out of service periodically for lab testing

Test results range of 2.1% to 3.4% lower fuel consumption
Millbrook has expertise in automotive, test, and propulsion technologies and remain pioneers in low carbon development. (ISO Certification – ISO 17025, ISO 9001 and ISO 14001.)
Esso Diesel Efficient™ fuel claims are based on internal and third-party vehicle engine testing, laboratory testing, and/or industry or other scientific literature. Basis for comparison for all claims is versus Esso™ unadditised diesel. Vehicle type, engine type, driving behaviour, and other factors also impact fuel and vehicle performance, emissions, and fuel economy. Esso Diesel Efficient™ fuel may be used in all heavy-duty and light-duty vehicles, but results may vary. Fuel economy testing was performed in the UK using on-road trucks.