Top tips for sustainable fuel use in construction
Published Tuesday 8 June, 2021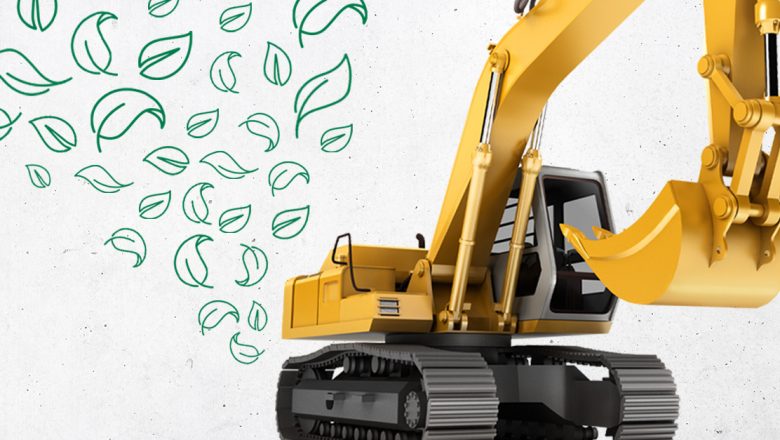 A target of net zero greenhouse gas emissions has been set by the UK Government, requiring businesses to rethink the way they work. This includes changes within the construction industry, with increasing pressures to reduce carbon emissions. The industry committed to reducing emissions by half in the built environment by 2025. 
We have the knowledge to provide construction businesses with the right fuelling solutions, supported by innovative products and technologies, to achieve business objectives, overcome daily site challenges and keep projects moving. Therefore, our specialist construction team has put together some top tips for sustainable fuel use for your business.
Tip #1 Switch to a sustainable fuel
Sustainable fuelling solutions could be the answer to help your business achieve its sustainability objectives. Our consultative approach provides customers with access to the right fuelling solutions meeting their unique specifications.
Hydrotreated Vegetable Oil (HVO) reduces greenhouse gas emissions by up to 90% in addition to sizable reductions in tailpipe emissions. It is a fossil-free, low carbon drop-in diesel replacement product made from 100% renewable waste, residues, and vegetable oils. Also, it provides a significant reduction in NOx (Nitrogen Oxides) emissions and PM (Particulate Matter) providing improved air quality for those working in and around the site where fuel is being burned. Reduce your carbon emissions today, click here. 
Esso Diesel Efficient™ fuel delivers both a cleaner engine and lower emissions, contributing to an impressive overall performance for your engine and your business. Shown to reduce particulate matter and CO2 emissions, the fuel formulation keeps your fuel injector system cleaner, which helps to protect the fuel system and reduces maintenance downtime.
A special additive in the fuel inhibits water from reaching the metal surfaces thereby protecting your engine's fuel system from corrosion, while an anti-foaming agent provides quicker refuelling. Esso Diesel Efficient™ fuel helps your business save money and reduces overall fuel consumption.*
We've seen the benefits this additised fuel can deliver and switched our own fleet to run on Esso Diesel Efficient™ fuel. Find out more here.
Gas-to-Liquid (GTL) is a cleaner burning diesel alternative that can be used in both on-road and off-road vehicles and machinery. It is made by converting natural gas into a high-quality liquid diesel. It has no impurities in it like nitrogen and sulphur, which are usually found in standard diesel products. It is also odourless and colourless, making it safer to work around. 
Tip #2 Carbon compensation
Carbon compensation involves a company buying a volume of voluntary carbon units reflective of their associated carbon emissions. The units purchased are an investment into a recognised and accredited CO2 saving project. This means customers can purchase carbon compensated diesel and offset their carbon emissions accredited to their diesel volume.
We offer our customers the opportunity to buy carbon compensated fuel products from us, whether it is Diesel, Gasoil, Kerosene or Petrol. When a customer places an order for their fuel requirement, they can buy our carbon compensated fuel product to offset the carbon associated with the fuel volume ordered. We then invest in a project on behalf of our customer and purchase the required number of carbon units to offset the volume. The units are then retired and our customer is provided with a full confirmation pack with all relevant documentation and certification relating to their carbon compensation.
Calculate your businesses carbon emissions here
Tip #3 Fuel Management Technology
Being more sustainable doesn't necessarily just mean changing the fuel you put into your vehicle, it could simply be finding ways to be more efficient in how you use and refuel your vehicles.
Our Automated Vehicle Recognition (AVR) technology is a fully automated fuel management solution that provides total control and security of your refuelling operation. Our chip and coil system enables your business to track every transaction on your site to the tenth of a litre, own use or subcontractor, and to pre-approve and authorise any vehicles/ equipment that require the use of their fuel facilities. Find more information here. 
*Independent tests performed at Millbrook Proving Ground Ltd., UK:
Compared the performance in heavy-duty vehicles of Esso™ unadditised diesel with Esso Diesel Efficient™ fuel

Used third-party customer trucks (Euro III and Euro V specifications)

Covered approximately 110,000 miles/177,000 km

Five months of normal daily on-road operations (motorway, rural, and urban environments)

Took trucks out of service periodically for lab testing

Test results range of 2.1% to 3.4% lower fuel consumption
Millbrook has expertise in automotive, test, and propulsion technologies and remain pioneers in low carbon development. (ISO Certification – ISO 17025, ISO 9001 and ISO 14001.)
Esso Diesel Efficient™ fuel claims are based on internal and third-party vehicle engine testing, laboratory testing, and/or industry or other scientific literature. Basis for comparison for all claims is versus Esso™ unadditised diesel. Vehicle type, engine type, driving behaviour, and other factors also impact fuel and vehicle performance, emissions, and fuel economy. Esso Diesel Efficient™ fuel may be used in all heavy-duty and light-duty vehicles, but results may vary. Fuel economy testing was performed in the UK using on-road trucks.