Decarbonisation in airside operations: How HVO is fuelling change?
Published Tuesday 15 November, 2022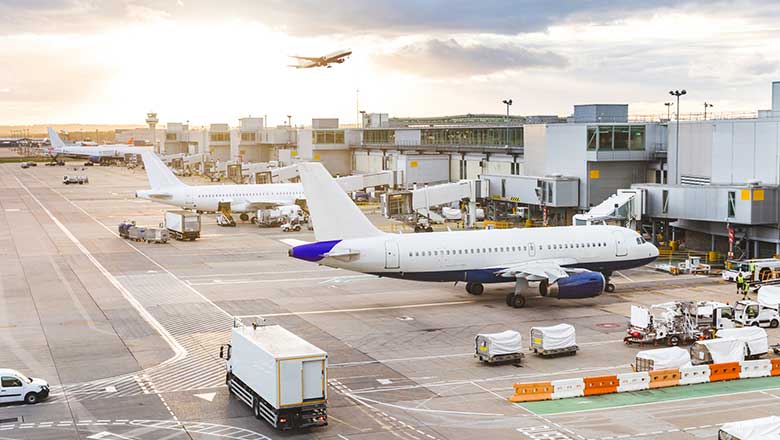 Hydrotreated Vegetable Oil (HVO) has grown significantly in popularity over the last two years with everyone wanting to know more about this new renewable fuel that can significantly reduce carbon emissions and help businesses improve their environmental impact. In this blog, we'll talk about what the product is and its benefits, especially in the context of airside operations.
First thing first, what exactly is HVO fuel? 
Hydrotreated Vegetable Oil (HVO) is a fossil-free, renewable drop-in diesel replacement fuel which provides users with a 90% greenhouse gas emission reduction as well as significant air quality benefits.
The renewable status of HVO is given due to the nature of its feedstocks which are usually either plant, food, or animal waste. Furthermore, the product is created through a hydrogenation process using hydrogen instead of methanol as its "catalyst", and oxygen is removed from the vegetable oils in the process. Compared to the first-generation biodiesel which is criticised for its potential issues with performance at cold temperatures and waxing, HVO, a second-gen biofuel is made from 100% waste feedstocks with a more complex refining process that produces a better quality and cleaner fuel.
So how can it contribute to the decarbonisation journey in airside operations? 

Cleaner Diesel Drop-in Replacement 
The first and most visible benefit of HVO is the reduction in waste emission. It reduces greenhouse gas emission by up to 90%. Based on our Carbon Savings Calculator, switching from diesel to HVO can save as much as 2476.75 mtCO2e per 1000 litres. To capture this amount of CO2 emissions you'd need over 12,000 trees planted in a year.
With fully reportable results, instead of planting trees, switching HVO can help your airside operations reduce its environmental impact significantly with ease and contribute to the National Determined Contribution by 2030 where climate change mitigation, including climate-related targets for greenhouse gas emission reductions are highlighted, and our Net Zero target by 2050.
Cost-effective Alternative Fuel Choice 
Whilst HVO is not necessarily a 'cheap' switch when comparing it with diesel, it is however the most viable and easy to implement solution that can have a 90% reduction impact on your businesses CO2e footprint. Normally, HVO sits at around 10 – 15% above the price of diesel, which is the usually the first talking point when analysing whether to buy HVO as a replacement fuel. Despite price implications due to the volatility in the global fuel mark, sales in HVO continues to surprise us every day, as HVO is now considered as a "safer" choice cost wise to a business.
Moreover, compared to other future green energy alternatives such as electric and hydrogen, there is no upfront investment required for switching to HVO which can save not just money but also time. It's a perfect drop-in replacement for existing red or white diesel and a real solution called upon by businesses airside.
Ideal for Busy Operational Environments with Low Maintenance Required 
Compared to the first-gen biodiesel, HVO can perform well under extreme weather conditions (CFPP of -40C), and is complemented by better manufacturer warranties, helping your businesses to spend less time on maintenance when busy.
In addition, HVO has no FAME content, so it significantly reduces the risk of microbial growth and water ingress that standard diesel products can be susceptible to. This means you have less exposure to fuel contamination and have less risk when storing it for longer periods of time. You can learn more about HVO performance from our HVO Data Sheet. Before switching to HVO, remember to carry out fuel sampling and analysis to make sure your tank is contamination-free.
With sustainability in mind, more and more UK airports are starting to integrate HVO within their operations hoping to go further on the journey to decarbonisation, including our customers at Heathrow and Edinburgh Airport.
When it comes to the supply of HVO, the WP Group have a secure supply from recognised HVO importers working with reputable refiners We have product stored across all our depot locations covering the South of England which allows for a full range of drop sizes. We understand that a reliable service remains critical regardless of the product, therefore we supply HVO with the same quality service as we do with our standard fuels. We offer next day deliveries, scheduled top-ups and standing orders across our network.
If you are considering or interested in switching your airside business' to HVO fuel, our experts at WP Group and Airport Energy Services are here to help with any questions you may have around the product or supply. Click here for more information.