WP's own FINCHY hits the premiership and helps raise money for the Saints Foundation
Published Friday 18 June, 2021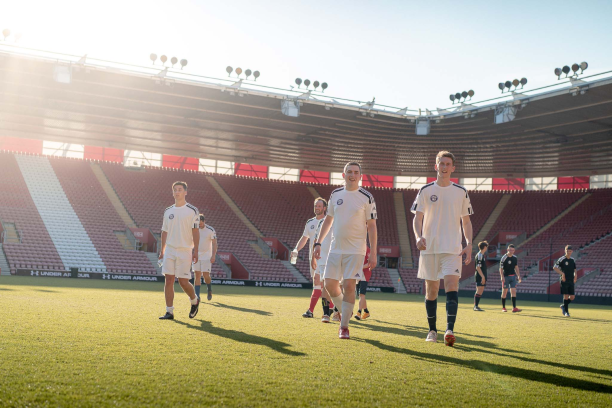 WP Group's own Customer Experience team member, Matt Finch dug out his football boots and hit the premiership last week for a very special game of football that helped raise money for the Saint foundation.
He joined the Carswell Gould Reunited team and travelled to the home of Southampton FC to take on the Green Snow Collective squad, in the inaugural St Mary's Invitational Cup. On the night, Carswell Gould Reunited came out on top with a 5-1 win, with Rich Kell from Bacardi winning man-of-the-match for his scintillating performance on the pitch.
The coach of Carswell Gould Reunited Gareth Miller saw talent in Matt immediately "we knew Matt was young, fit, healthy (unlike most of the team) and up for great sporting challenges – what we didn't know if football was his forte – on the day he gave it his everything and even when we were shouting at him to offload the ball he still saved us at the back".
Players were encouraged to raise money and donate to the Saints Foundation charity helping people fulfil their potential to be more involved, to be given healthier and empowered members of the community.
The game was part of Southampton FC's end of season celebrations, where it has opened up the pitch to local schools, businesses and fans to play on the same turf that Danny Ings and James Ward-Prowse have graced in the Premiership.
Gareth Miller, Managing Director at Carswell Gould and squad manager, said: "It's been a real honour to play on the pitch at St Mary's and a great experience to involve our clients in. We were delighted to be able to put the relative footballing talents of our agency up against the team from Green Snow and in front of one of the biggest crowds this season. We've won many awards for our marketing work in the past, but this is the first time we've competed for footballing silverware. It's also been fantastic to get together with a few of our clients in person again, rather than via a Zoom call."
See all the pictures from the St Mary's Invitational Cup at football.carswellgould.co.uk.