On the right road to a more sustainable future
Published Friday 19 February, 2021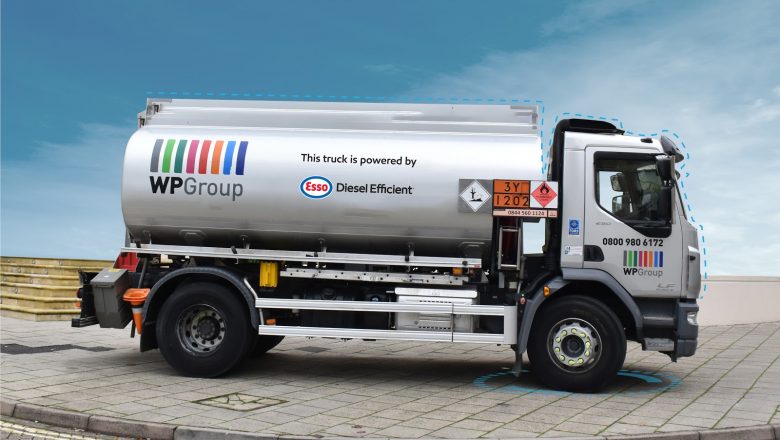 We are fuelling change for a cleaner greener future by moving our own fleet over to the more sustainable Esso Diesel Efficient™ fuel.
We've switched our vehicles to run on Esso Diesel Efficient™ fuel as it has been shown to be not only more efficient than standard diesel fuel, but also more cost-effective and improves the carbon footprint of the vehicles that use it.
The WP Group's Fuelling Change strategy demonstrates our commitment to more sustainable and efficient fuelling solutions that provide practical benefits, both commercially and environmentally.
We provide a range of fuel management solutions which improve operational efficiencies to UK customers in the fields of construction, traffic and fleet, airports, port and marine, agriculture, energy and power.
Our focus is to support customers with long-term sustainable fuel and energy solutions using developing technologies and intelligence-led fuel management programmes.
The Esso Diesel Efficient™ fuel delivers lowers CO2 emissions, resulting in cleaner air quality. Compared to standard Esso™ diesel, the Esso Diesel Efficient™ fuel helped reduce Nitrogen Oxide emissions by an average of 10 per cent and carbon dioxide emissions by an average of 2.8 per cent.
Independent tests on Esso Diesel Efficient™ fuel also showed a reduction in fuel use of 2.8%, amounting to 28 litres of fuel saved for every 1000 litres purchased and a saving on the business fuel bill.
Mark Clouter, Business Development Sales Manager at WP Group, said: "We've seen the benefits that this additised fuel can deliver and have switched our own fleet to run on Esso Diesel Efficient™ fuel to support our company's sustainability in the future.
"We recognise that our position as a supplier of diesel products, in today's market, requires continual business evolution and this allows us to support the increasingly demanding requirements our customers are faced with when working to achieve their business objectives.
"We offer a comprehensive selection of fuelling solutions, from ISO standard diesel to HVO, a fossil-free, low carbon drop-in diesel replacement. And, importantly, we work with our customers to ensure, whichever fuel they use, it is used in the most efficient way possible.
"Our own switch to using Esso Diesel Efficient™ fuel in our fleet is a small step but a logical and significant one towards fuelling change."
Learn more about Esso Diesel Efficient™ and other sustainable fuelling solutions by visiting www.thewp-group.co.uk/esso-diesel-efficient