COVID-19 Statement
Published Friday 13 March, 2020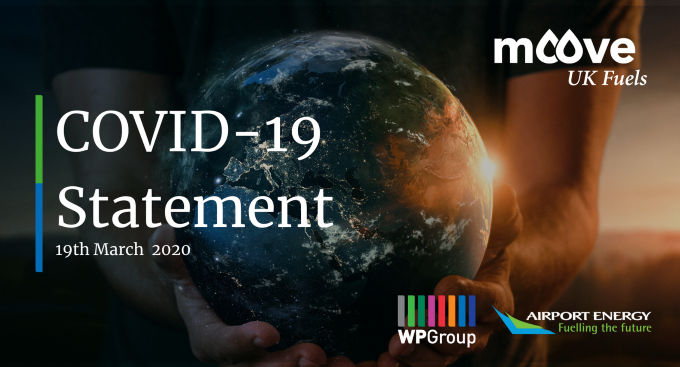 Moove Fuels (WP Group and Airport Energy) leadership team is closely monitoring the Coronavirus situation and strictly following UK Government guidelines, with regular updates being published to all our employees through our internal communication channels.
Our priority remains the health and safety of our employees, customers, suppliers and communities while doing our best to minimise any business disruption in these uncertain times.
The company is following its Business Continuity Plans which have been updated to address the specific circumstances with all office-based employees able to work from home. We have implemented special measures within our operational teams to support our drivers to ensure social distancing and reduce any risks.
We are also committed to providing reliable services and we do not anticipate any service disruption at this time as our suppliers have demonstrated preparedness to manage impacts related to pandemics. Please see the statement from our industry body UKIFDA:
"The UK & Ireland Fuel Distributors Association (UKIFDA), our industry Trade Association, has been in contact with the Trade Associations who represent the refineries and importers in the UK and Ireland. Those suppliers have crisis management policies and procedures in place including plans around pandemics which have to be made available to the relevant government departments in each country and so there is no need for unseasonal, panic buying. We will be keeping our Members up to date with any developments following government announcements."
We will continue to operate in line with UK Government guidelines by ensuring best practice and I commit to maintaining regular communication with our valued customers, suppliers and industry bodies.
Darren Borras, Business Unit Director
Moove Fuels